Robbie Holder: rhythm guitars & vocals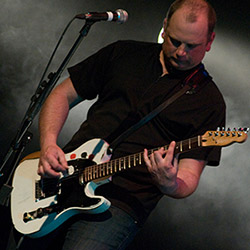 I'm told I've been a Quo fan since about 3 months before I was born. First gig I ever went to was Quo on the 'Army tour at the Brighton Centre and I've been hooked on their more heavier boogie rock since. I've been playing guitar in bands since I was 20 but this is the first time I've had to sing the lead. I've known some very inspiring and generous people along the way too, to whom I owe a lot. They should know who they are and I thank you!

Thanks also to all the people who come to see us, especially those who boogie their butts off. I get such a kick out of that. If you see us, ask me about the day we met the Quo. What a surreal day! Me and my big mouth gets me everywhere!

My favourite songs are 4500 times and Roll Over Lay Down. When we do it, it gets me in a place I didn't know I had. Favourite hobbies are thinking too hard, the band, flying and playing footie for Rudgwick FC when I get picked.
Gear:
Far too many Fender Telecasters reconditioned and aged to look like Rick's which is essential for Quo and a work of art! 
Les Paul style (piece of junk but made to look and sound great by Hozey) tuned for 4500 times and two other back-up Telecasters. 
Marshall Valvestate combo, chorus and flanger effects.
 Two of Rick's plectrums nicked from the stage of the Brighton Centre.
---
James Batchelar: keyboards & vocals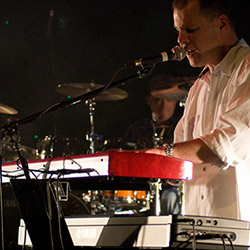 I've been playing keyboards in various bands for over 25 years. We decided to get the Quo band going in 2004 and it's gone from strength to strength. It was a meeting of minds as we all love and appreciate the mighty Quo! Andrew Bown (Quo's multi-instrumentalist) has been a big influence on my playing and, by having keyboards, our live sound is as close as it can be to Quo's more recent live sound. It's an energetic set but we all love a good crowd and having a good time is what this band is all about!
Gear:
On stage I use a Yamaha P-80 stage piano which is a bit of a road warrior and can take a bit of punishment! I also use a Hammond SK1 simulator keyboard with other vintage sounds sampled. This runs into a Leslie 2101 rotary cabinet. As a back-up, I use a Nord Electro keyboard. This is rigged up to a large 180 watt Roland KC550 (or KC350) amp in the backline. There's also much other hardware and about 20 miles of cables – this band doesn't do gear lightly!

Quo-caine is a great band and we've worked hard to do Quo's music real justice. A lot of people think it's easy – it isn't and that 'three chord' thing is one of the biggest myths in music!
---
Andy (Hozey) Hosegood: lead guitars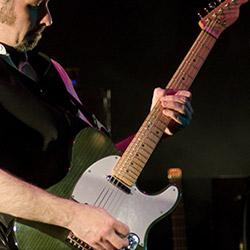 Hello people! Does anyone REALLY read these things? Well for those of you who are interested/bored enough to want to find out about who we in Quo-caine are, here's my little bit of whatsit.

My name's Andy, but most of my mates call me Hozey (its ok, I'll answer to both!). I was born in 1973, and I think G**y G*****r was at the top of the hit parade but, the less said about that, the better. Progressed through the 70's without too much hassle and on to the 80's when I started to take notice of music. Round about the time I was 10, or 11, my Dad gave a rather well worn copy of the mighty Quo's infamous '77 live album. This was a wake up call of sorts for me as, up until then, I had been happy with the synthesized pap I heard on the radio. There was something about the organic sound of the geetars – I dunno, it was just great!

So, after spending my cash on a few more Quo albums and then discovering Queen when I was 14, I decided it was time to put down the tennis racket and learn how to play the guitar properly. I think I joined my first band when I was about 20. This would have been crappily named Rocker Covers featuring Mr. Robbie Holder on rhythm guitar and a certain James Batchelar on the ivories. Moving swiftly through the 90's and lots of other bands (including Mustard with Dan on bass) I am now in Quo-caine with the above herberts!
---
Carl Sigward: drums & percussion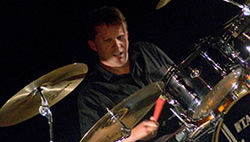 Born: 3rd June 1971 in Shoreham, West Sussex
Lives: East Preston, West Sussex with my wife, Marina, and Marlene the cat!
I love the hard-driving style of John Coghlan's playing from the classic Quo line-up but also believe all the other drummers have added something to the Quo sound. Our band delivers the music hard and rockin' just as the Quo fans expect us to!
Gear:
Drums: Tama, Superstar Hyperdrive birch shell.
Cymbals: Zildjian, K Custom, A Custom, Armand Series.
---
Colin Eccles: bass guitars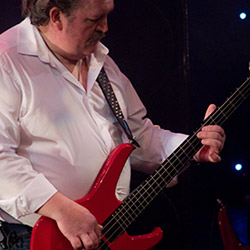 What's there not to like about Status Quo!? I remember listening to their original single, 'Pictures of Matchstick Men' on Radio Caroline when it was first released and I got really into them when they changed their image (and sound) and released 'Down the Dustpipe.'  A British Boogie Band was born and they're still going strong!
I got my first guitar from a shop in Manchester when I was in my early teens and that really fuelled my interest in all things musical. I've always leaned towards 'proper' music but I like many styles.
I like to get out and see local bands in local venues. There are some fantastic bands out there playing original and cover material and I get to see them either free or for the price of a couple of pints! Much better than paying £250 and standing ¼ mile from a big venue stage!
Favourite Quo songs – in no particular order are: 'Caroline',  'Down Down',  'Whatever You Want',  'Beginning of the End',  'Rain',  'Creepin' up on You',  'Mystery Song',  'Two-Way Traffic' and 'Dust to Gold' to name just a few! I'm really pleased to be playing with Quo-caine – a great bunch of blokes!
Gear:
I'm presently using  a Musicman Stingray 5HH into some very light weight gear – a Mark Bass Head and a pair of handmade 'Barefaced' cabinets – see: www.barefacedbass.com
Connecting everything together are some brilliant handmade quality cables from my mate Dave Polglaze – see: www.bassic-bits.co.uk